Plague Inc: Evolved coming to Xbox One
Ndemic Creations is excited to announce that Plague Inc: Evolved is coming to Xbox One via the ID@Xbox self-publishing program.
Plague Inc: Evolved is a unique mix of high strategy and terrifyingly realistic simulation. Your pathogen has just infected 'Patient Zero' - now you must bring about the end of human history by evolving a deadly, global Plague whilst adapting against everything humanity can do to defend itself…
James Vaughan, the creator of the game, said that "bringing Plague Inc: Evolved to the Xbox One is a fantastic step for the game. Microsoft is a great partner and I can't wait until people can design deadly pathogens from the comfort of their living room! (hurrah)"
Originally a global smash hit on mobile, Plague Inc. has remained at the top of the charts since launch with over 25 million players and more than 900,000 games played each day. It is the 2nd most successful paid mobile game of the last two years and expanded onto PC in the form of Plague Inc: Evolved earlier this year.
Plague Inc: Evolved is entirely redeveloped from the mobile game and has a host of new features, including 3D graphics, competitive and cooperative multiplayer and a custom content creator. The game will be feature-complete at launch, and additional diseases and scenarios will be available via free update post-release.
A hit with both players and critics, Plague Inc. has also attracted the attention of media, educators and health professionals worldwide due to its highly authentic disease infection models. The CDC even asked the creator to come and speak about the simulations in in the game!
Some of the newest diseases to join the Plague Inc. family were the mind-controlling Neurax Worm, the zombie-producing Necroa Virus, the Black Death, and the 30,000-year old Frozen pithovirus. More coming soon…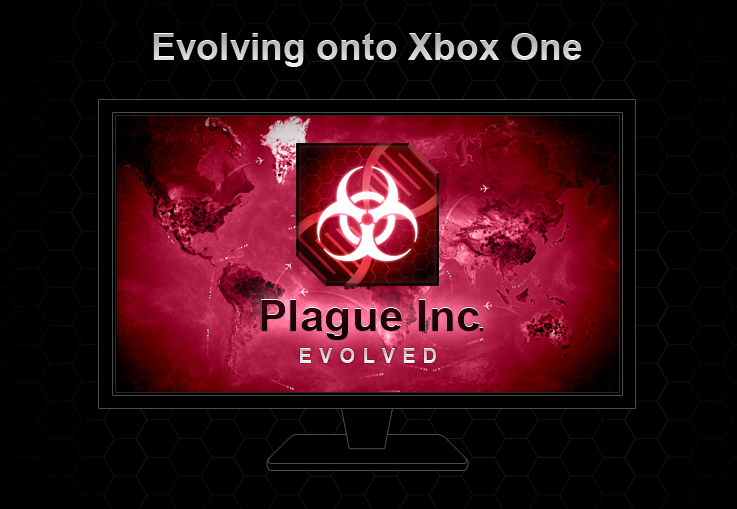 About Plague Inc.
Plague Inc. is a unique mix of high strategy and realistic simulation which lets players create and control a global plague whilst adapting against everything humanity can do to defend itself.
Plague Inc. released May 2012 and instantly topped the charts due to its intelligent, sophisticated gameplay and high production values. It has won multiple 'Game of the Year' awards and is a major critical and commercial success. It even attracted the attention of the CDC!
Made by first time, one man developer Ndemic Creations as a hobby, it is an extreme viral success story – rising to #1 in the charts through word of mouth alone. It was the 5th most downloaded paid iPhone game of 2013 in the US.
Plague Inc: Evolved has been entirely redeveloped from the mobile game. It combines the original critically acclaimed gameplay of Plague Inc. with significant, all-new features for PC and console.
About Ndemic Creations
Ndemic Creations is a leading, independent game studio dedicated to making intelligent, sophisticated and ultra-high quality strategy games.
It has achieved extreme success with its first game Plague Inc. – a global hit which was one of the most significant mobile success stories of 2012 and 2013 with over 25 million players.
Ndemic Creations is self-funded and based in London. It was founded in 2012 by James Vaughan (initially as a hobby!)
Links
Developer Website: https://www.ndemiccreations.com
Game Website: http://www.plagueincevolved.com
CDC Article: http://blogs.cdc.gov/publichealthmatters/2013/04/plague-inc/
Developer Twitter: https://twitter.com/NdemicCreations
Developer Facebook: https://www.facebook.com/PlagueInc
Trailer: https://www.youtube.com/watch?v=dix_xLeU5o8