Dawn of the Planet of the Apes infects top mobile/PC game Plague Inc. with official Simian Flu content
NDEMIC CREATIONS AND 20TH CENTURY FOX PARTNER TO RELEASE DAWN OF THE PLANET OF THE APES-THEMED "SIMIAN FLU" UPDATE FOR MOBILE/PC GAME PLAGUE INC!
New bar set for movie-game tie-ins – fans of both franchises worldwide enjoying high quality, innovative gameplay linked to the summer movie blockbuster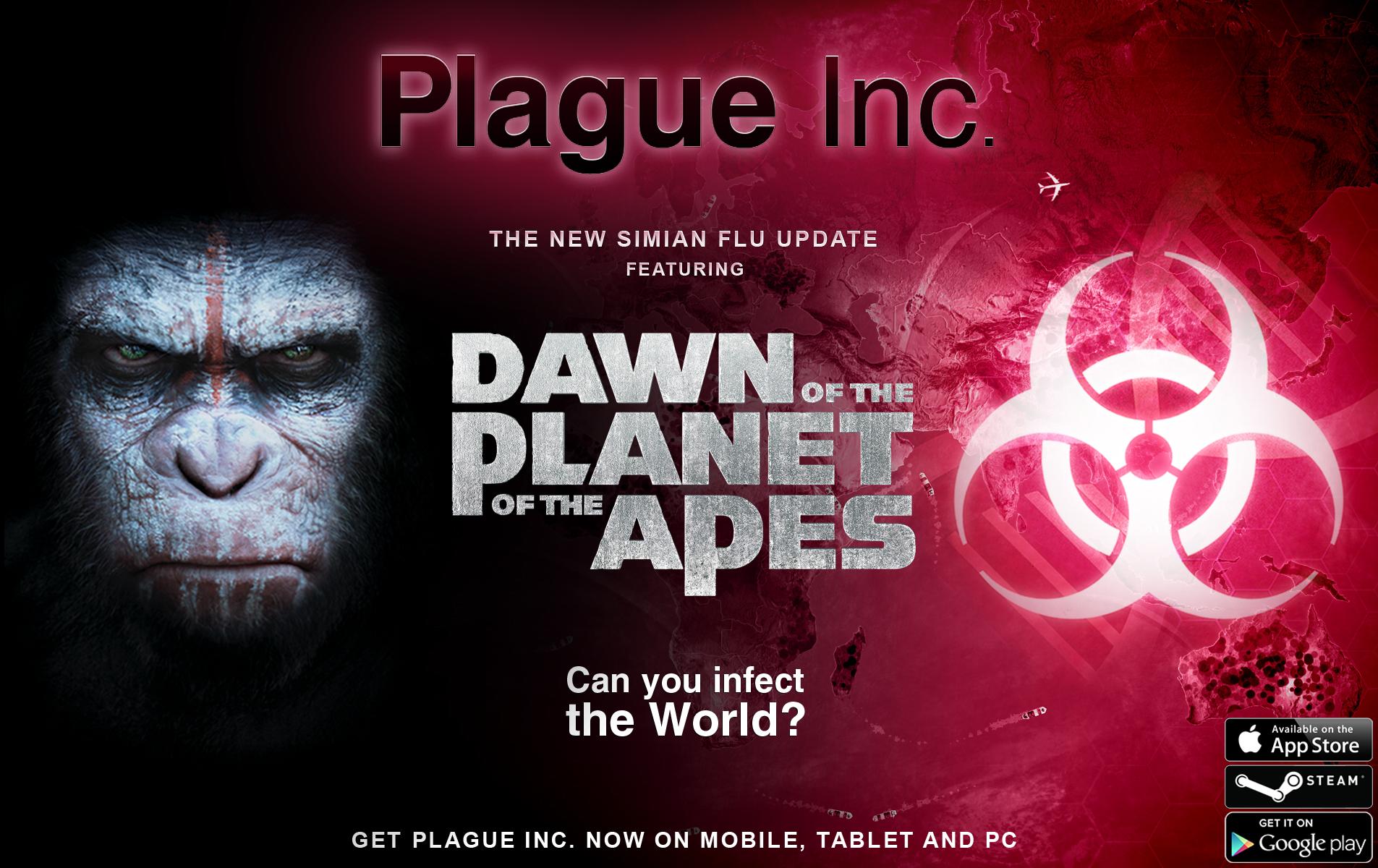 Ndemic Creations, in partnership with 20th Century Fox, has released the Simian Flu update to its hit mobile game Plague Inc., allowing players to interact with the world of the newly released Dawn of the Planet of the Apes movie.
James Vaughan, the creator of Plague Inc., said "The Simian Flu update in Plague Inc. will show the world how awesome a movie/game partnership can be for players. Plague Inc. and Dawn of the Planet of the Apes fit together perfectly and I can't wait for everyone to start infecting the world with their new genetically modified virus."
Plague Inc. is one of the most popular mobile games of the last two years, and Ndemic Creations have created a brand new world for players to explore and infect. Players will get a glimpse into the events of Dawn of the Planet of the Apes when they create their own customised "Simian Flu" virus from the movie:
Experience Dawn of the Planet of the Apes on a global scale - See how humanity responds as you infect the world with a lethal, artificial virus. Can they handle a global pandemic while dealing with a growing nation of genetically evolved, intelligent apes?
Control communities of intelligent apes – As well as infecting humans, evolve your disease in parallel to allow ape-to-ape transmission and improve their cognitive abilities. Ape colonies will generate DNA whilst helping apes avoid detection from humans.
See one species rise as another falls – Master new gameplay mechanics and strategies to help apes become the dominant species on the planet. Decide when your apes should rampage against research labs, move apes to avoid detection from military drones and use ape migration to prevent scientists from conducting aggressive ape experiments.
The update to Plague Inc. is out now on iOS, Android, PC & Mac. It will be included in the future Xbox One edition.
It is available in English, Japanese, Korean, Chinese (simplified/traditional), German, French, Russian, Spanish, Portuguese and Italian.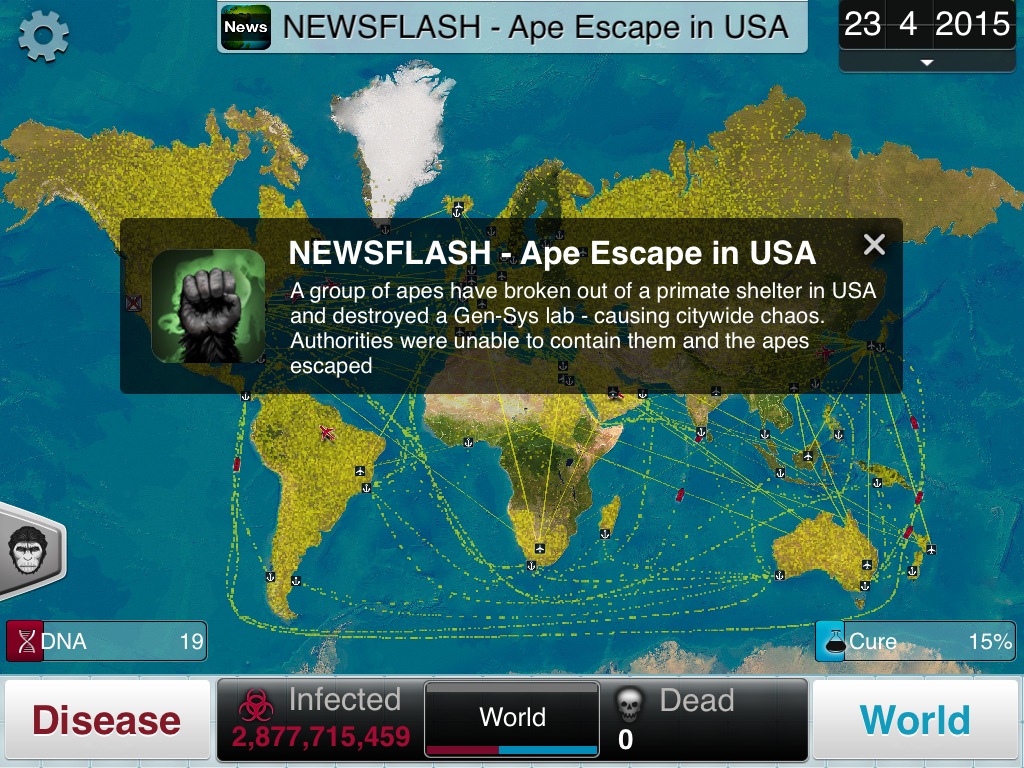 Links
Plague Inc. Website: https://www.ndemiccreations.com
Dawn of the Planet of the Apes Website: http://www.dawnofapes.com
Simian Flu Update Presskit (including Screenshots and Localised Promotional Graphics): https://www.dropbox.com/sh/tv06o45s5l3x4op/AAA-y3XAwUGtBhdUNpoCJnjNa/Simian%20Flu
More about Plague Inc.
Plague Inc. is a unique mix of high strategy and realistic simulation which lets players create and control a global plague whilst adapting against everything humanity can do to defend itself.
Plague Inc. released May 2012 and instantly topped the charts due to its intelligent, sophisticated gameplay and high production values. It has won multiple 'Game of the Year' awards and is a major critical and commercial success. It even attracted the attention of the CDC!
Made by first time, one man developer Ndemic Creations as a hobby, it is an extreme viral success story – rising to #1 in the charts through word of mouth alone. It was the 5th top paid iPhone app of 2013 in the US.
Plague Inc. and Plague Inc: Evolved are available for smartphones, tablets and computer from the Apple App Store, Google Play, Amazon App Store and Steam. It will also be coming to Xbox One in the future.