Hi contagious comrades,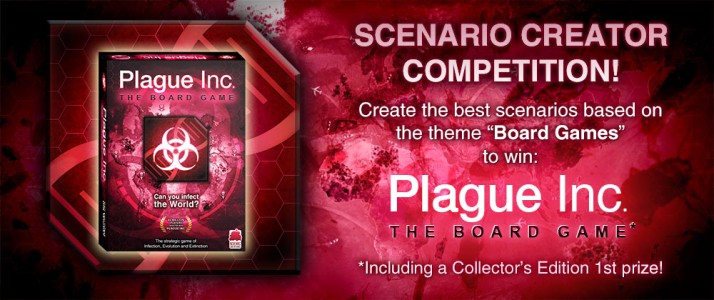 To celebrate the release of Plague Inc: The Board Game, we're running a community competition to see who can make the best custom scenario for Plague Inc.
Do you have what it takes to wow us with your custom scenario ideas? All we ask is that you stick to the overarching theme: "BOARD GAMES"
The team here at Ndemic Creations will act as the judges and we'll pick out the three best scenarios as winners. Here's what that lucky trio will get!
1ST PRIZE - A Collector's Edition copy of Plague Inc: The Board Game


2 x RUNNER UP PRIZES - 5th Player Expansion copies of Plague Inc: The Board Game
Anyone with either Plague Inc: Evolved on Steam, or the Plague Inc. Scenario Creator app for iOS or Android can enter. Simply open the game/app and unleash your creativity! Then, when you've finished your creation, publish your scenario on the Steam Workshop (visible to all), or via the mobile app, and then submit it to the competition using the link below. All submissions must be made by 30 June.
CLICK HERE TO ENTER YOUR SCENARIO
Just to reiterate: the theme of the competition is "BOARD GAMES".
This theme is totally open to your own interpretation, so feel free to be as creative as you want and let your imagination run wild! We will ask you to explain how your final scenario is linked to the theme, just in case. :p
We can't wait to see what you all cook up!
Stay healthy and Good luck!
James and the Ndemic Creations team
***

JUDGING CRITERIA
We are looking for scenarios that are original, creative, and most importantly fun to play! We Will also be asking ourselves the following questions about your scenarios:
Did we enjoy playing it?

Does it relate to the theme?

Is it memorable? Does it stand out from other scenarios?

Does it have well-balanced gameplay?

Is the narrative/structure engaging?

Is it polished? (no typos, errors in gameplay or inconsistent graphics etc)
RULES
Your scenario must comply with these rules, otherwise it will not be considered:
All submissions must be received by the 30 June 2017. We will aim to announce the winners in August 2017

Submissions will only be accepted using the dedicated form

We will exclude any scenarios that we deem offensive or explicit

Submissions must be available in English

An entrant can submit a maximum of one scenario and they can only win one prize

Entered scenarios must comply with the Scenario Creator Terms and Conditions
T&Cs
Some boring but annoyingly important stuff
Ndemic reserves the right to use shortlisted scenarios in promotional images/campaigns

In some regions it may not be easy to gift the winner a copy of the board game, in which case we will work together with the winner to gift them a Steam game of their choice.

The winner is solely responsible for any taxes applicable to the prizes.

Ndemic reserves the right to amend these contest rules or to terminate the competition.

Any prizes will be awarded to the submitter of the scenario only. If there were multiple contributors, then it is the submitter's responsibility to share the prize.

In the event of any dispute regarding the rules, conduct, results and all other matters relating to the competition, Ndemic's decision shall be final and no correspondence or discussion shall be entered into.

Ndemic is not responsible for misdirected, incomplete, lost, late, illegible, undelivered, inaccurate or delayed entries, or for technical, hardware, or software failures of any kind, lost or unavailable network connections, or failed, incomplete, garbled or delayed computer transmissions or other errors or problems that may limit or affect a person's ability to participate in the competition

By entering into the competition, each entrant agrees to release, discharge, and hold harmless Ndemic from any liability whatsoever, and waive any and all causes of action, related to any claims, costs, injuries, losses, taxes, expenses or damages of any kind, either at law or in equity, whether known or unknown, arising out of or in connection with this competition, including the possession, use or inability to use any prize