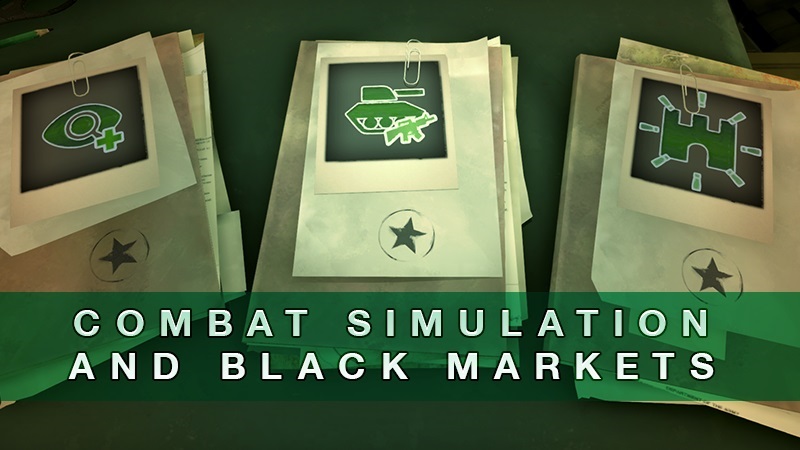 We're back with another update for Rebel Inc:Escalation, new tactics and map features, fixes and improvements. Let's dive in!
New Tactics and Map Features
In the first of many updates, we're adding more tactics and map features to Campaign. These can now appear in your campaigns:
New Map Features
Black Market
Regions can make use of the remains of destroyed Insurgent Camps, gaining funds for your operation.
Charity Watchdog
Regions can have an established history of working with charities. This watchdog ensures a significant reduction in the amount of corruption caused by charitable activities.
Thanks to Nick Mance for suggesting the concept.
Armed Supporters
People are pleased that their zone is stabilised and they want to keep it that way, banding together to keep the insurgents out, by force if necessary.
Thanks to FriendlyFriendly for suggesting the concept.
New Tactics
Expectation Management
You've made promises to the international community and they trust your judgement, even when things are unstable, you won't lose reputation.
Combat Simulation
Feel like you could have done better if you just had one more go? Now you can! Get one chance to retry a map.
Combat Recruitment
The Insurgents have gotten more confident and if your troops flee, the insurgents gain new recruits and become stronger. Reconsider that retreat!
We have a lot more cool stuff planned here - watch this space!
If you have any ideas for features or tactics - let us know in this form and if your concept is used, we'll credit you in the update!

Changelog
Balance Changes
Local Agitators: Slightly reduced the speed that insurgents attack
Sleeper Cells: Insurgent tactic now activates based on how many zones insurgents control, less zones means it's more likely
Fuel Shortages, Weak Supply Chains: No longer require soldiers to walk from the HQ on first deployment, this still remains as normal in Brutal and Mega Brutal difficulties
Split and Run: Insurgents are now slightly weaker when Split and Run is active
Extended Deployment: Slightly increased the deployment time of coalition soldiers when Extended Deployment is active
Decreased odds of major map features being selected multiple times in a single campaign
Decreased insurgent strength on casual in Main Game and Campaign
Further decreased insurgents strength when peace disabled
Decreased the frequency of caves, especially in maps with many remote zones
Improved the consistency of random variance in budget on Brutal and Mega Brutal
Not possible to get 3 star tactics in Mega Brutal
Now a very low chance to get 2 star tactics earlier in Campaign mode

General Changes
Added visual improvements to communicate rarity of tactics
Adjusted the frequency of tactics being offered to the player by rarity.
Maps appear in order played on end of Campaign mode screen
Campaign name fix for load screen
Changes to Campaign mode unlock: Campaign available if you have already played a Campaign before or have beaten any level on any difficulty
Fix for issue where save games disappeared if you press the Create Campaign button and then press cancel on the popup
Fixed bug where Operations are rewarded $0 when a nearby region is stabilised in Campaign mode
Improved Campaign decisions
Fixed bug in Campaign mode where the Morale Boost tactic could spawn a duplicate soldier withdrawal decision under certain conditions
Fixed save and quit popup wording
Zone overview now shows the correct security level

Thanks again for your support and feedback on Campaign mode! We'll be bringing out more cool updates soon!
The Ndemic Team