2014 has been an incredible year, both for Plague Inc. and Ndemic Creations (I know I say this every year :P ). It's been a year of significant growth as we infected new platforms, countries and lots of new players - as well as releasing a number of major game updates.
A total of 45 million players have now been infected with Plague Inc. - that's over 0.6% of the global population!
We launched Plague Inc: Evolved for PC and Mac in Steam Early Access
We partnered with the summer blockbuster movie Dawn of the Planet of the Apes and released a major 'Simian Flu' update for Plague Inc.
Plague Inc. was one of the very top games of the App Store worldwide in 2014
None of this would have been possible without the support of all the people who play my little game. Thank you so, so much.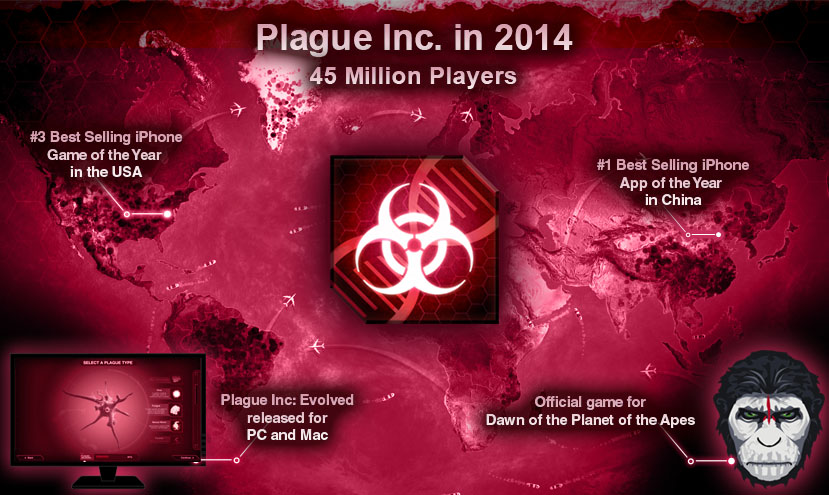 Read on for a list of notable events that happened in 2014, some numbers on how Plague Inc. has done and a look ahead to what's planned in 2015…
---
Notable Events of 2014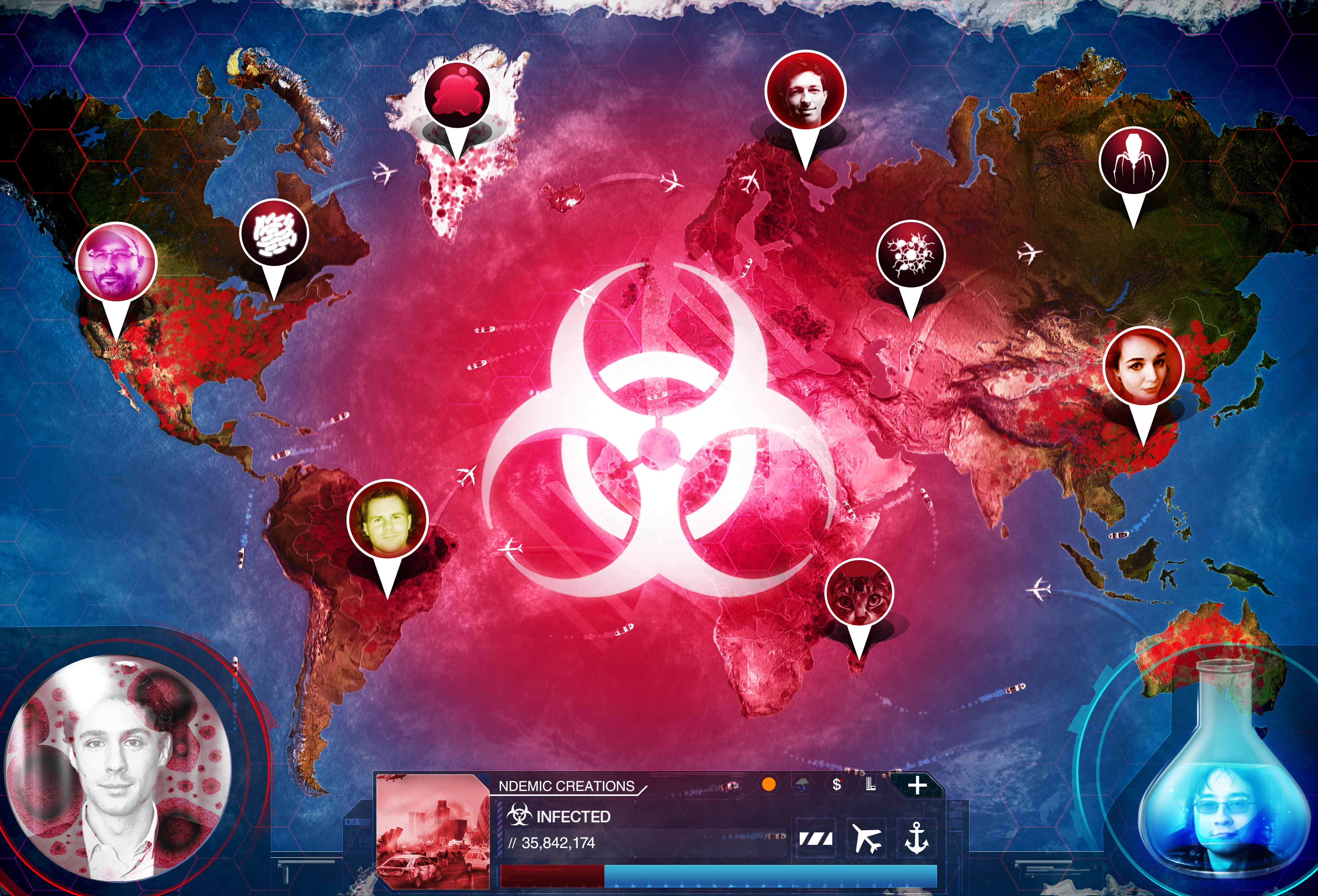 ---
How did Plague Inc. do?
For the third year in a row, Plague Inc. was one of the best selling mobile games worldwide (and it had a great first year for PC and Mac!).
On iOS in 2014, Plague Inc. was:
​The 3rd most popular paid game in the US (up from #5 last year!)
The most popular paid app in China and France
One of the top ten most popular apps in Canada, Germany, Italy, Japan, Russia, South Korea and the UK
Although there aren't concrete figures shown for Android, it continues to do extremely well there also!
Plague Inc: Evolved has also had a hugely successful first year on Steam for PC and Mac - selling over 100,000 units in its first month alone. We will be announcing a big milestone shortly... :)
As mentioned above - this is only possible thanks to the support of millions and millions of players who recommend the game to their friends. Thank you!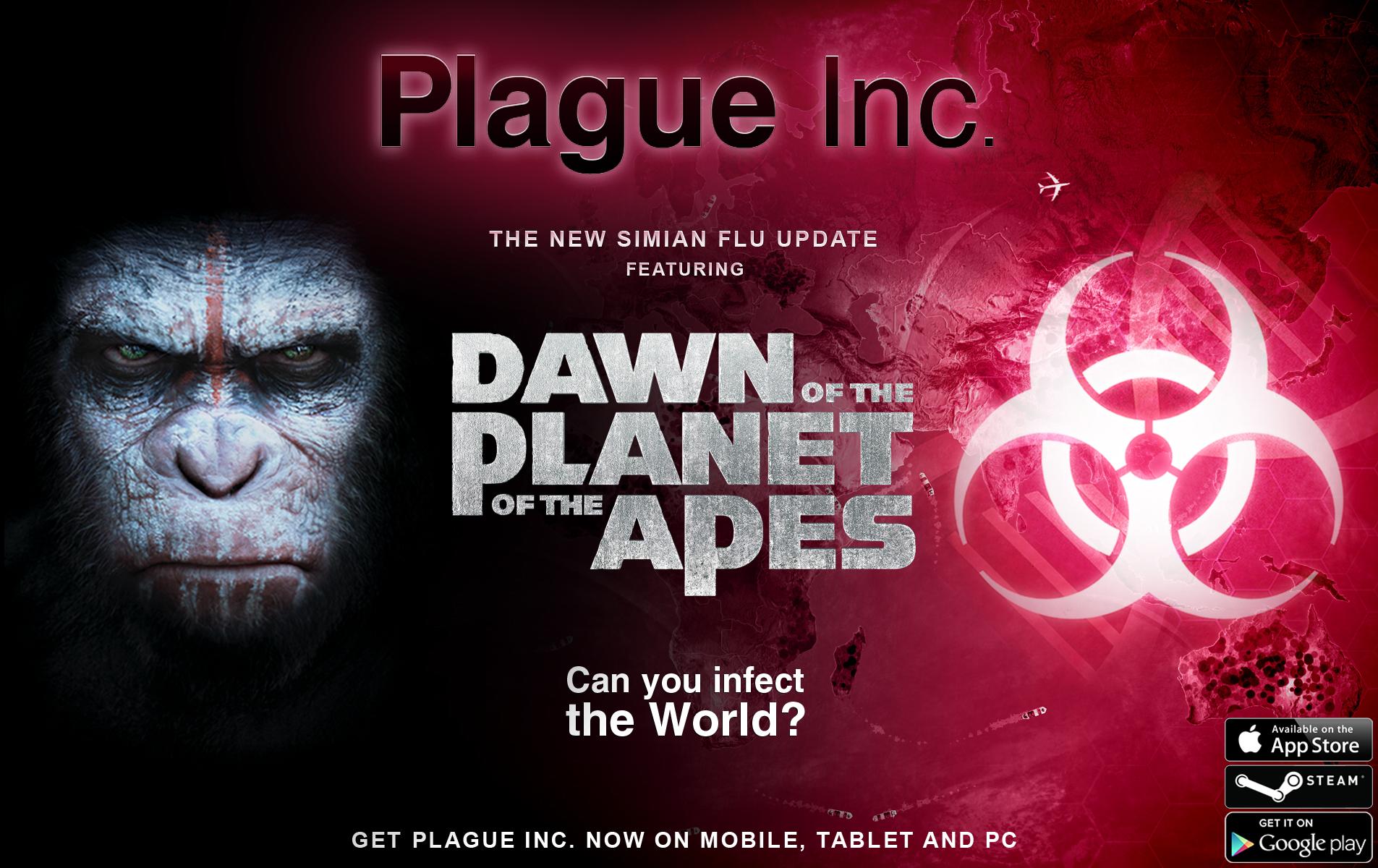 ---
Plans for 2015
We've already made some big announcements for things that are coming in 2015 and you can expect lots of other cool things as well... :) Here is a sneak preview:
Top Priority - finish Plague Inc: Evolved, releasing multiplayer, and launching fully on PC, Mac and Linux
Continue to update and add new content for Plague Inc. and Plague Inc: Evolved - including new disease types, scenarios and lots more!
Release Plague Inc. on Windows Phone
Release Plague Inc: Evolved on Xbox One
Translate the game into more languages
Top secret, special plans (may include

cuddly disease plushies

)...
As ever, to be the first to know about these - you can follow me on
Twitter
/
Facebook
or sign up to the mailing list below.

​
---
Get Plague Inc. for mobile now: