Even though Plague Inc: Evolved has left Early Access on Steam, it continues to evolve and add new, exciting gameplay! With this evolution we have 2 new multiplayer disease types for you - Fungus and Parasite - as well as several new Multiplayer genes. On top of this, we have also added Steam controller support, once again increasing the different ways to play Plague Inc - make sure to check it out now!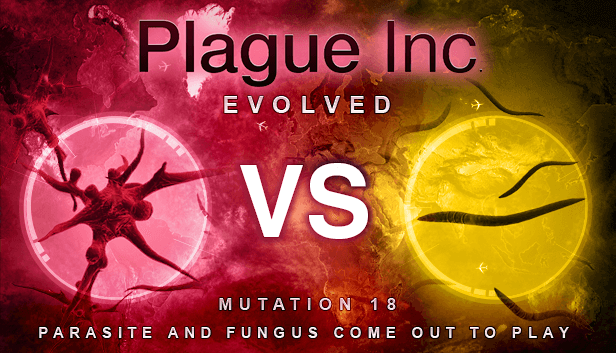 Here is a summary of the main features:
Fungus Multiplayer disease type - As ever, the fungus will find it hard to travel long distances, even by unscheduled flight. However the regular spores will give you a brand new mechanism to help you spread around the globe. This fungus is much happier in humid climates too...

Parasite Multiplayer disease type - The Parasite has a parasitic(!) approach to DNA collection, with the ability to harvest DNA from your opponent's corpses. However, your severity will increase as your opponent evolves so it won't be long before humans are out to cure you.

Steam Controller Support - We have now added the official Ndemic-designed Steam controller support. Our configuration ensures that you can play Plague Inc: Evolved as happily with the Steam controller as you can with mouse and keyboard!

New Multiplayer Genes - 5 new Multiplayer genes will allow you to customise your plague to suit your strategies even more. Think you can find their starting country quickly? Use the "Search and Destroy" gene! Want to mutate Transmissions and Abilities? Use the "Base Hydration" gene! Want more detail about where your opponent is? Use the "Peekaboo" gene! But remember, as ever, all these genes have a downside...
For more information, see our forum post.
P.S. the game is 33% off on Steam at the moment - let your friends know so you have even more people to play multiplayer with! :P