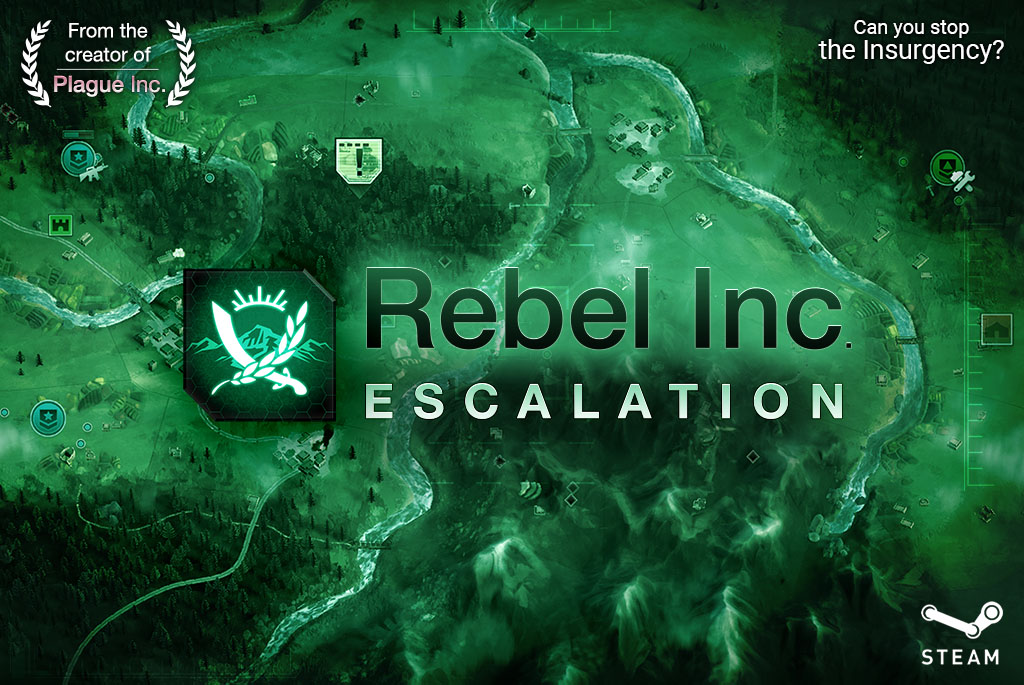 Ndemic Creations is proud to announce Rebel Inc: Escalation, a unique and deeply engaging political/military strategic simulation from the creator of Plague Inc.
In Rebel Inc: Escalation, the war is 'over' - but we all know that doesn't mean anything. In order to stabilise a war-torn country, you need to balance competing military and civilian priorities to win the hearts and minds of the people, whilst also stopping a deadly insurgency from seizing power!
Following on from the global mega hit 'Plague Inc.' with over 130 million players, Rebel Inc: Escalation offers a deeply engaging, strategic challenge inspired by the complexities and consequences of modern counter insurgency. It has received acclaim from international development experts and was even featured at a major international peace conference!

"Rebel Inc. lets everyone wrestle with the messy challenges of post-conflict recovery and better understand the complex realities of building peace." - World Bank Global Lead for Stability, Peace and Security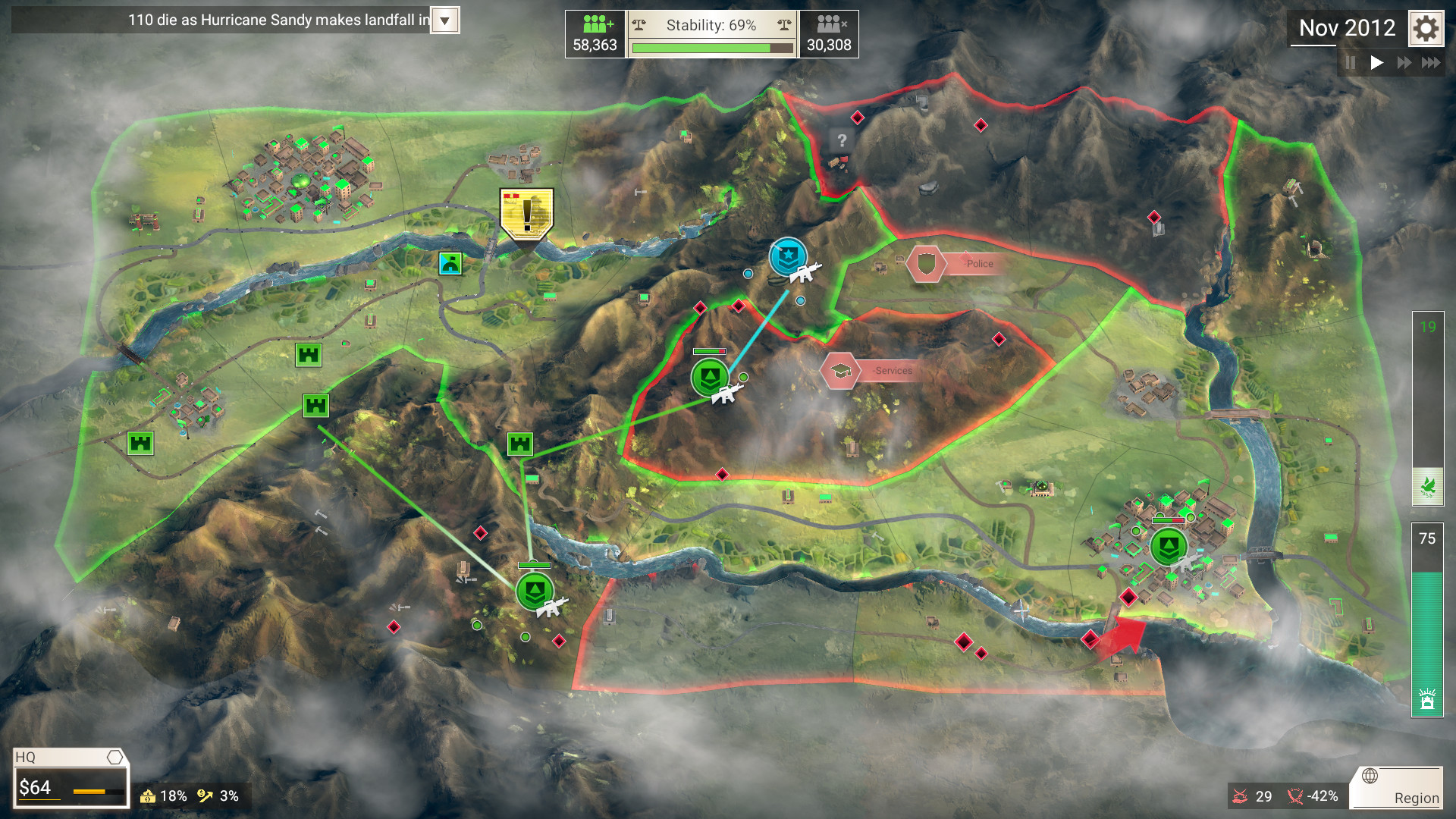 Rebel Inc: Escalation will combine the original's critically acclaimed gameplay with significant, all-new features for PC including a campaign, multiplayer, steam workshop support, improved graphics and lots more.
Rebel Inc: Escalation will launch on Steam Early Access in October 2019. Check out the full list of features at launch below, and take a look at what's coming to the game in the coming months.
Full Features List
5 different regions - Deploy to different strategic environments - including the gentle farms of 'Saffron Fields', the strategic chokepoint of 'Mountain Pass', the impenetrable forests of 'Distant Steppe', and more
6 unique governors - Whether it's the 'Economist' receiving an entire year's income in one go, the 'Smuggler' thriving on corruption or even the 'Warlord' with his personal militia - each governor has radical new abilities to master
Hyper-realistic world - Inspired by Afghanistan: Highly detailed and based on extensive research, Rebel Inc: Escalation contains real world development initiatives and an innovative representation of counter insurgency tactics. It has been praised by the World Bank and was even featured at a major international peace conference
Intelligent civilian and military AIs - Deadly insurgent attacks put constant pressure on your operation and sophisticated narrative algorithms shaped by your decisions model the needs of local populations.
Gorgeous Graphics - Stabilise a beautifully rendered 3D world that responds to your actions and thrives as you provide jobs and services. Drone cams and civilian TV channels bring your operation to life and show you what's happening on the ground.
Clear Intelligence - Plan priorities with Intelligence Reports and Combat SITREPs, geek out with loads of new stats and graphs, and analyse your best strategies with end-of-game replays.

Coming during Early Access
New Regions - Rebuild a vast dam to prevent catastrophic floods in Azure Dam, dig Insurgents out of cave networks in Black Caves and more…
New Governors - Deploy heavy tanks with the Tank Commander, deploy civilian experts to key zones with the Development Director and more...
Campaign Mode - Conduct large scale operations across multiple regions. Carefully manage your resources, adapt to unique conditions and upgrade your team and abilities as you seek to counter the growing Insurgent threat.
Co-Op and VS Multiplayer - team up to efficiently stabilise the region with friends or compete with them in the shadows to promote your own cause.
Custom Scenario Creator - Who said Nation Building was hard! Develop your own custom scenarios with unique strategic challenges and narratives then share them with Steam Workshop.
And much more - Including daily challenges, speed runs and Mega-Brutal difficulty. Plus loads of new maps, governors and scenarios in future (free!) updates
Head to Rebel Inc: Escalation's Steam page right here now!