Plague Inc. is infecting a new platform :)
If you haven't already heard the news from the Microsoft stage at E3, I am very, very excited to announce that Plague Inc: Evolved will be coming to Xbox One via the ID@Xbox self-publishing programme!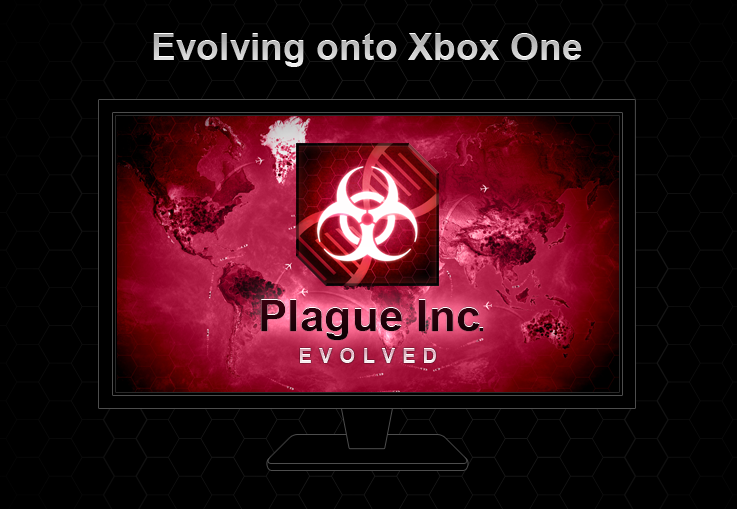 A quick recap - Plague Inc: Evolved is a unique mix of high strategy and terrifyingly realistic simulation. Your pathogen has just infected 'Patient Zero' - now you must bring about the end of human history by evolving a deadly, global Plague whilst adapting against everything humanity can do to defend itself…
Bringing Plague Inc: Evolved to the Xbox one is a fantastic step for the game. Microsoft is a great partner and I can't wait until people can design deadly pathogens from the comfort of their living room! (hurrah :P)
Plague Inc: Evolved is entirely redeveloped from the original hit mobile game and has a host of new features. The game will be feature-complete at launch, and additional game modes, diseases and scenarios will be available via free update post-release.
On a personal note – it is unbelievably cool to see a game which I made in my spare time get called out on a massive stage at E3. I want to say a massive thank you to all the millions of Plague Inc. players worldwide who have made this possible.
It's going to be a busy 2014 for us here at Ndemic Creations. Apart from this, we are working to bring Plague Inc: Evolved on Steam out of Early Access and we have a number of major new content updates in the works for both mobile and PC (Xbox One will get these on launch).
I'll share more information soon. Stay in touch with Twitter and Facebook or sign up to our mailing list at the bottom of the page. In the meantime, feel free to check out our Xbox One trailer below.
James

​