​I am extremely excited to announce a major new update for Plague Inc. in partnership with 20th Century Fox. Get ready to infect the world with the Simian Flu from upcoming summer blockbuster movie Dawn of the Planet of the Apes! The narratives of Plague Inc. and Dawn of the Planet of the Apes fit together perfectly and result in an incredibly powerful new plague type for new and existing Plague Inc. players to enjoy!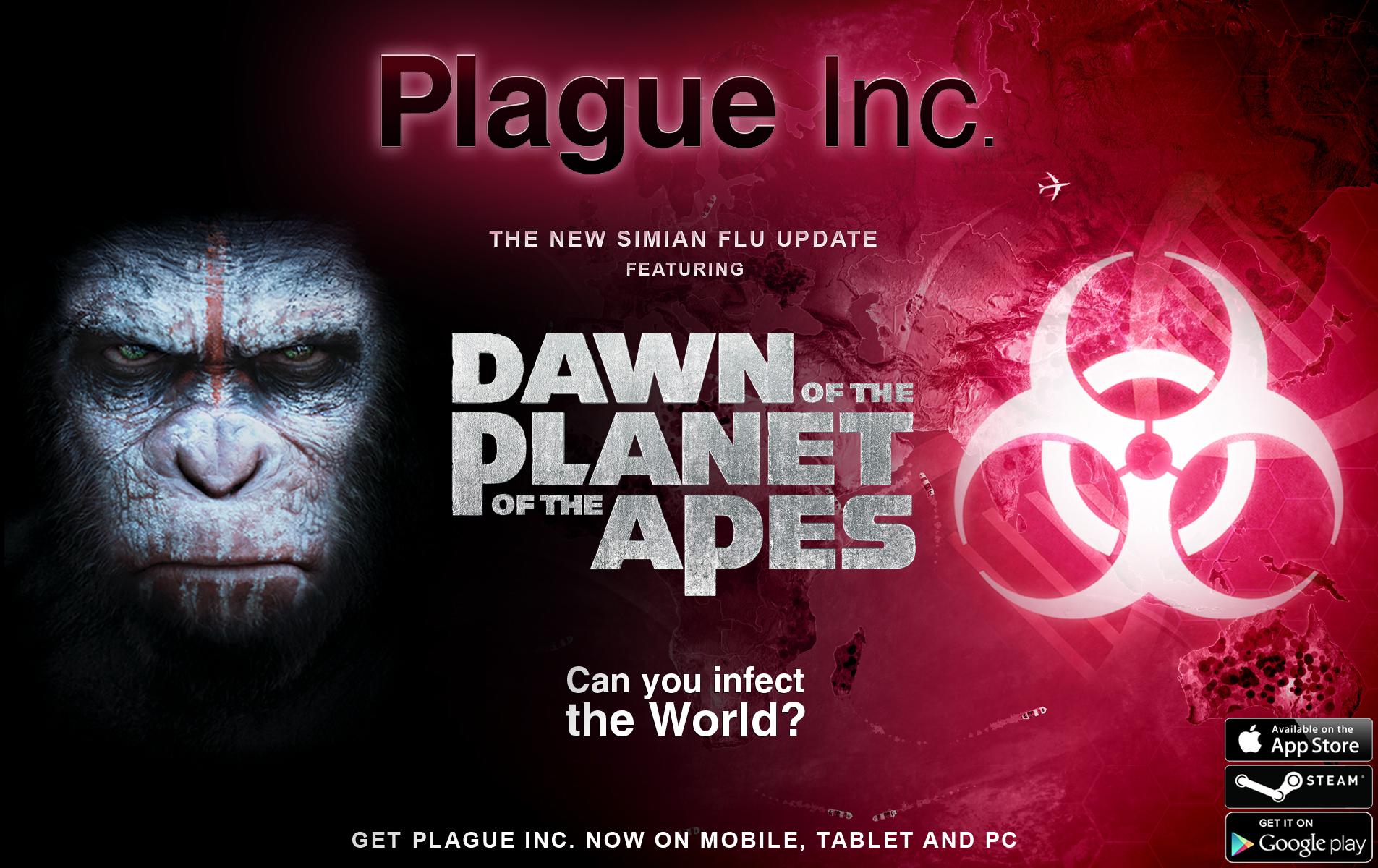 This is a major expansion pack update for Plague Inc. The Simian Flu is a genetically modified virus created in a Gen-Sys lab. It has been found to increase intelligence in apes, but mutates rapidly and is untested on humans...
Experience Planet of the Apes on a global scale - See how humanity responds as you infect the world with a lethal, artificial virus. Can they handle a global pandemic while dealing with a growing nation of genetically evolved, intelligent apes?
Control communities of intelligent apes – As well as infecting humans, evolve your disease in parallel to allow ape-to-ape transmission and improve their cognitive abilities. Ape colonies will generate DNA whilst helping apes avoid detection from humans.
For one species to rise, another must fall? – Master new gameplay mechanics and strategies to help apes become the dominant species on the planet. Decide when your apes should rampage against research labs, move apes to avoid detection from military drones and use ape migration to prevent scientists from conducting aggressive ape experiments.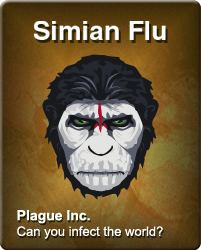 The update is coming to Plague Inc. on iOS and Android and Plague Inc: Evolved on PC & Mac. It will also be included in the future Xbox One edition of Plague Inc: Evolved. It will be initially be available in English, Japanese, Korean, Chinese (simplified/traditional), German, French, Russian, Spanish, Portuguese and Italian.
It will be available very soon :)
James
P.S: A fun fact – when I was making Plague Inc. (as a hobby) 3 years ago – I was watching the previous film Rise of the Planet of the Apes and the end credits scene gave me a lot of inspiration for Plague Inc. (it features a disease slowly infecting the world) Crazy to think that Plague Inc. is now big enough to work directly with the film's sequel!
​

​
(Keep an eye out for a Plague Inc. mention at the end...)
Simian Flu presskit here
Plague Inc. presskit here
Dawn of the Planet of the Apes Website ​here
---
Other recent Plague Inc. news:
Plague Inc: Evolved announced for Xbox One at E3
Plague Inc. released in China for iOS and goes straight to #1
Plague Inc: Evolved launches on Steam via Early Access
Plague Inc. developer invited to CDC to talk about infection models in the game