Plague Inc: Evolved has just released its biggest Evolution / update ever onto Steam - the Scenario Creator and Custom Scenarios!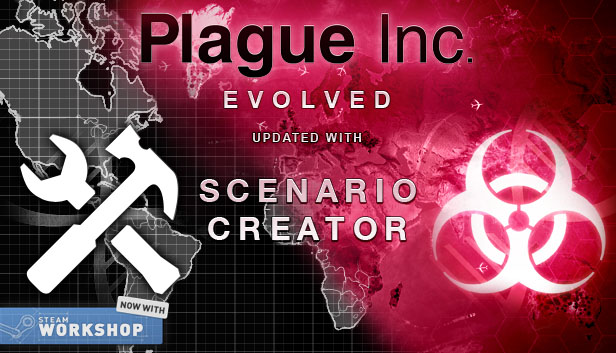 In just over 12 hours, there have already been over 270 scenarios made by players, showing the power and creativity of user-generated content (pleasantly surprised to say there have been no penis plagues made yet, but I feel this may only be a matter of time... :p)!
The biggest and most-requested update yet, the Scenario Creator allows players to hit the lab and use the same tools that we do to create awesome new content for Plague Inc: Evolved, as well as sharing it with their friends and exploring other players' deadliest ideas via the Steam Workshop.
Unleash your creativity, I can't wait to see what you can come up with - although I'm a little scared as well :p
Create – Use our powerful, easy to use editor to create diseases and worlds using the key tools used by the developers
Share – Steam Workshop compatibility lets you share your creations with friends or even the world at the click of a button
Play – Use our in-game browser to view and play the wonderful, weird (and potentially warped) creations from the community. There are a lot of talented people out there who are going to make some exciting content, and we will feature the best scenarios to help you find them.
You can find it on Steam here: http://store.steampowered.com/app/246620/