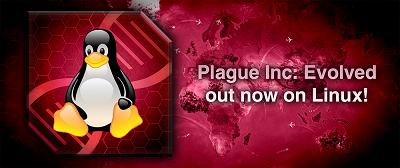 It's really cool to finally be able to release Plague Inc: Evolved on Linux - it's been on our development roadmap for ages and was a key thing we promised to do in Early Access. Huge thanks to our Linux beta testers - it has been extremely helpful getting all your feedback as we worked on making it run perfectly. Linux users - please continue to get in touch and let me know how you find it!
The most recent update to Plague Inc: Evolved - Mutation 14 - also comes with a major graphical update for everyone on all platforms as we have significantly expanded the city-cams which show humanity's struggle at street level. We've pushed out over 30 new country city cams with 132 new images to the game so now you get to see your disease infect a whole host of different cities and environments. What makes this feature especially cool is the support our community has given us in helping us find / provide the base images for us to 'plague-ify'. We will be adding more countries in the future!

We're continuing to work hard on Multiplayer and hope to share more on this very soon.
James

Major changes:
Linux compatibility added
132 new city-cam images added
Scenario tags from Scenario Creator now match Steam workshop
Featued Custom Scenarios updated
Find the full change log in our forum.