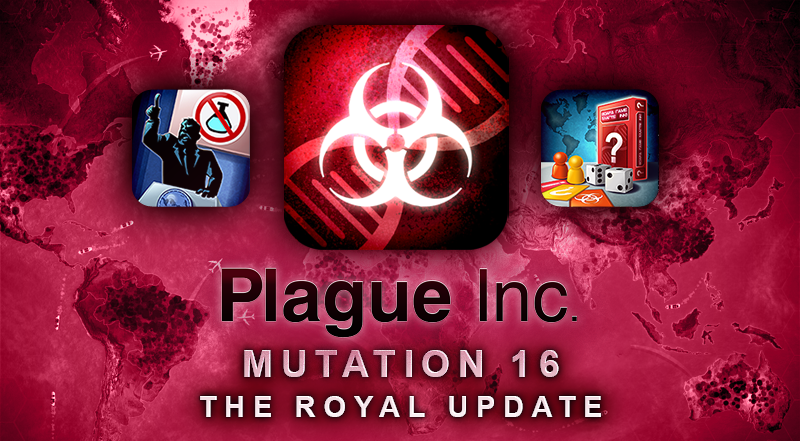 Did you know that Plague Inc. just won a royal award from Her Majesty The Queen? To celebrate winning The Queen's Enterprise Award for Innovation, we've created a huge 'Royal Update' stuffed full of exciting new content, including two all new official scenarios!
Infectious New Interface
Plague Inc. now looks 816% better! The entire interface has been redesigned and modernised - prepare for visuals so delicious-looking you'll want to lick your phone.*
New Ultimate Board Games scenario
Make a best-selling board game in this radically different scenario that has nothing to do with disease! Investors have given you two years to design, produce and distribute your very own game. Can your cat-themed Scrabble/Risk hybrid outsell Monopoly?
New Science Denial scenario
People around the world have stopped believing in science, medicine and even diseases. One country decides to offer scientists sanctuary and from here they hope to save humanity from itself! Can you wipe them out in time?
***
We're working hard to get this update out to you soon. In the meantime, if you own an iOS device and would like to play Mutation 16 right now, there's still time to apply to be a beta tester right here.
Stay healthy,
James and the Ndemic Team
P.S.
Plague Inc. is available on iOS, Android, PC, PS4 and Xbox One (and as a physical board game!)
*In the interests of hygiene, please wash your phone both before and after