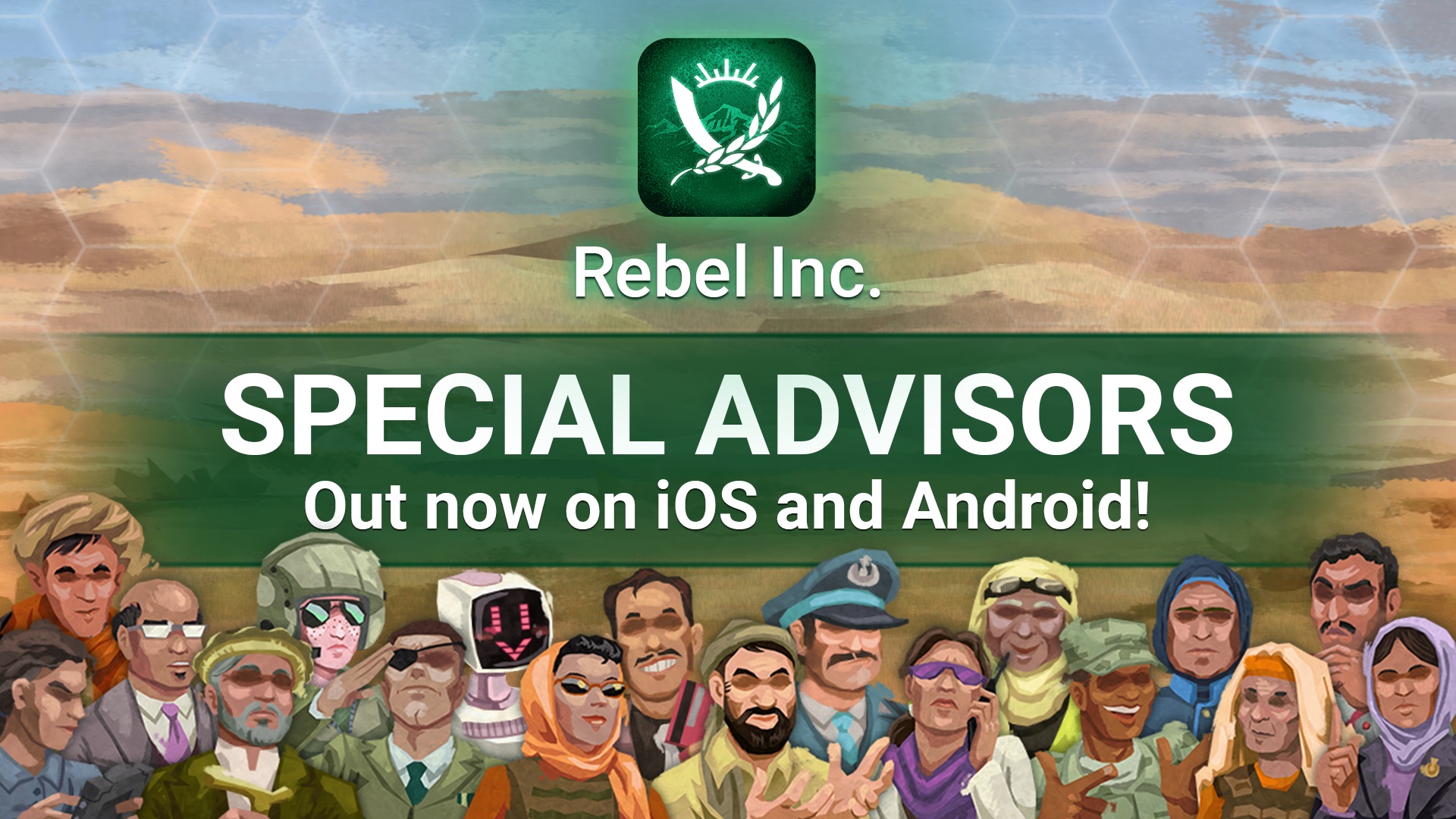 Hire powerful new advisors for your operation, they'll provide incredible benefits but demand a high salary! From ministers, to engineers and even drone controlling robots, with 18 new advisors you'll have more tactical options than ever.
Unlock them for FREE, by beating the Weekly Challenges.
Here's a few of Advisors profiles...
F.A.O. OPERATION DIRECTOR. PRIORITY ALPHA
As discussed, here are a few of the many new candidates who will be joining the Operation shortly. Please remember each of the 'Special Advisors' will require remuneration ahead of field deployment.
Kind Regards,
HR.

War Hero
"Coalition Soldiers gain additional deployment time after winning battles"
Experience & Expertise
30 years of military service
Inspiration to the troops
Biography
There's nobody quite like the War Hero, 15 medals, a knighthood, veteran of five wars and twenty-two conflict zones.

Now retired from active duty, he spends his time inspiring Coalition Soldiers with his tales of heroism. He's been in more difficult situations than anyone, and he's always survived.

The very presence of the War Hero ensures that Coalition Soldiers will gladly extend their tours, only too happy to continue to serve.


---
Remote Specialist
"Start with a remote specialist attachment"
Experience & Expertise:
Remote Communities
Mountain Guide
Biography
Living in the remote mountains of Pistachio Forest, the Remote Specialist knows a thing or two about difficult terrain and isolated communities.

Making his living guiding foreign companies and tourists through the mountains and thick forests, he's now available to join military units and provide essential combat intel to boost Soldiers' effectiveness in remote zones.


---
Local Liaison
"Concerns grow at a reduced rate."
Experience and Expertise:
Conflict Resolution
Community Focus
Biography
The Local Liaison is a true pillar of the community. Utterly trustworthy, he cuts through jargon and misinformation.

His goal is to minimise misunderstandings between communities and the Operation. He brings the news of the Operation's work and it will appease people… for a while.


---
Friendly Robot
"Manually control drones."
Experience and Expertise:
Surveillance Drone Interfacing
Customer Service
Biography
Designed by Decker Hamilton to be the ultimate Mall greeter, this $4 Billion Dollar prototype was a failure until the war of 2002 when it was accidentally discovered it could easily interface with drone technology to directly control their movements.
Now installed in Drone Command, the robot relays instructions to drones around the country, always responding with a smile and a "Is there anything else I can help you with today?".
---
Intelligence Officer
"Soldiers scout intel in neighbouring zones."
Experience and Expertise:
Intelligence Gathering
25 years as █████████ at ███
Section Chief of ████ involved in ██████████████████ - █████████ incident
Biography
█████████

As an international operative, the Intelligence Officer has seen █████ and knows how to find out what █████████ hasn't.

Coordinating with █████████ on the ground, █████████ will improve their intel gathering abilities on neighbouring zones.


---
Quartermaster
"Start with an extra Garrison."
Experience and Expertise
Military defence
Requisition
Biography
Keeping everything shipshape and Bristol fashion, the Quartermaster's goal is order and preparedness.

Recruiting them will ensure an organised forward base at the start of your Operation, providing a strong foothold in the region.

Remaining Candidates
This is only a few of the new candidates, If you'd like to see all of them, play the latest update for Rebel Inc. on iOS and Android.