It's the holiday season – time to infect the world with happiness!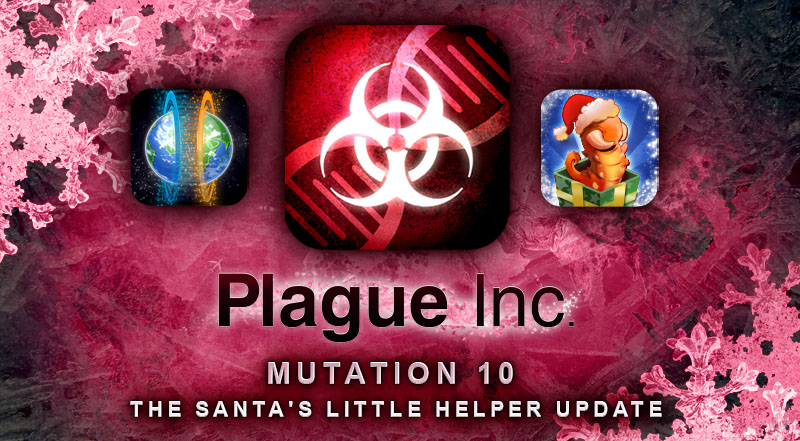 Mutation 10 - the Santa's Little Helper update - is out now for Plague Inc. on iOS – it's a huge new update with a big bag of treats for players. It will be available on Android, PC and Mac very shortly.
The update includes two new scenarios, a brand new progress screen, major gameplay and AI updates, and new achievements – among other festive goodies!
To celebrate Plague Inc. being the 3rd bestselling iPhone game of 2014 – the Santa's Little Helper scenario is available to all Plague Inc. players for free over the holidays!
---
Full Change Log:
Plague Inc. Mutation 10 - The Christmas Update
1) Special Christmas Scenario - Infect the World with Happiness! Boring governments have banned holidays, laughter and celebrations. Luckily, the Neurax Worm has teamed up with Santa and is determined to infect the whole world with joy and happiness.
2) Teleportation scenario - Highly advanced technology has created the opportunity to travel through a portal and teleport to other countries. Where will they go?
3) New Progress Screen - Just how good at Plague Inc. are you? See your completion % and complete challenges to become a Plague Inc. master!
4) Major gameplay update to core disease types following player feedback, particularly Parasite, Prion and the Neurax Worm, as well as upgraded human AI, making life more difficult for any potential world-ending pathogen
5) Improved starting country selection, updated the world population and added lots of new Simian Flu achievements
6) Performance improvements for all devices
7) Minor game balance / AI improvements / bug fix