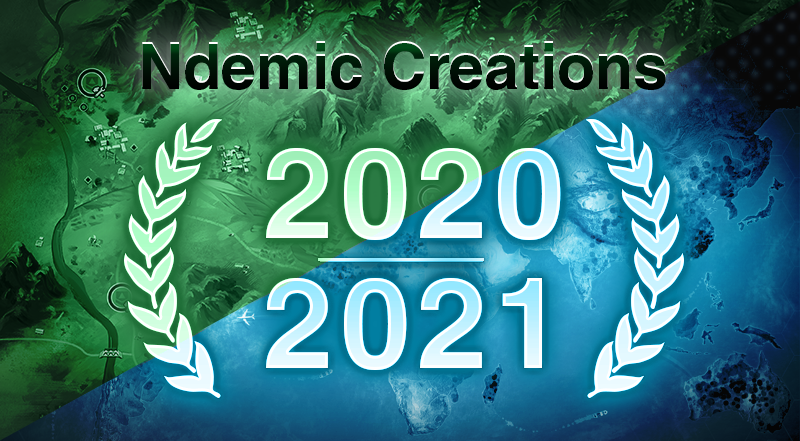 Hello, Plague Inc. and Rebel Inc. players.
Like everyone on the planet - things have changed a lot for us in the last year. As the real world got closer and closer to the game I made 8 years ago, we switched to a fully remote work pattern. More importantly, at the request of global health experts, we tore up our entire development plan and worked on Plague Inc: The Cure instead.
As I do at the end of every year I wanted to look back and highlight some of our achievements and challenges, as well as talk about some of our plans for 2021.
Thanks to all our players for your support and enthusiasm.
Key Events from 2020:
Plague Inc. sees a huge surge in players as COVID-19 becomes a global pandemic.

In the middle of the COVID-19 outbreak, China suddenly bans Plague Inc.

Ndemic donated $250,000 to the Coalition of Epidemic Preparedness Innovations (CEPI) and the World Health Organisation's COVID-19 Solidarity Response Fund to help fight COVID-19.

Huge interest in Plague Inc. and Ndemic from the media, including the BBC, New York Times, Nature, Financial Times, Washington Post and more!

Rebel Inc. released in Afghanistan, receiving Dari and Pashto language support and praise from the Afghan government.

Campaign Mode released for Rebel Inc: Escalation.

The Fake News update for Plague Inc sees a surge of activity in the run up to the US elections.

We did a panel at the Steam Digital Tabletop on Plague Inc. The Board Game's design.

Released Plague Inc.'s Cure Mode on iOS and Android.

Cure Mode is enthusiastically received by Plague Inc. fans worldwide.

I was a guest on Nature as well as The Economist Podcast discussing COVID-19 and Plague Inc.

For the 8th year in a row, Plague Inc. was one of the top best selling games of the year worldwide (#1 in France, #2 in USA, Brazil and South Korea, #3 Australia, Germany and Japan, #4 in UK, India and Italy).

2 years after launch, Rebel Inc. is going strong as well and one of the top 20 best selling games of the year (#7 Germany, #8 France, #11 South Korea, #16 UK, and #19 USA).

Over 160 million people have now played Plague Inc.!
Plague Inc: The Cure
In 2020 we produced Plague Inc: The Cure - the largest update we have ever made for Plague Inc. It was created with the help of world health and infectious disease experts from all over the world including the Coalition for Epidemic Preparedness (CEPI), World Health Organisation (WHO) and Global Outbreak Alert and Response Network (GOARN).
Richard Hatchett, CEO of CEPI said: "From contact tracing to vaccine development and manufacturing, Plague Inc: The Cure encapsulates the complexities of a global pandemic response and highlights how crucial international collaboration is needed to address such a threat."
The Cure is a natural and logical evolution for Plague Inc. and I'm hugely excited to finally allow players to fight the disease rather than control it. We will continue to expand and update the Cure along with Plague Inc. throughout 2021 and beyond. It's available now on iOS and Android - it will be coming to Steam in early 2021.
Plague Inc: The Cure is free for all Plague Inc. players until COVID-19 is under control.
Rebel Inc.
In 2020 we launched our largest addition to Rebel Inc. yet. Campaign Mode was released on iOS, Android and Steam, bringing large-scale dynamic operations across multiple regions to the game. Throughout the year we've continued to support Rebel Inc. with other new content and quality of life improvements.
Pre-COVID, we were invited to the Afghan Embassy in London to meet with the Ambassador and embassy staff to get their feedback on the game. This year with their help we released the game in Afghanistan by translating it into Dari and Pashto.
H.E. Said T. Jawad, Afghanistan's ambassador to the UK, described the game as "sophisticated and engaging, [showing] the complexity of war and insurgency with interesting options to achieve success through stability and peace."
Plans for 2021:
Rebel Inc: Escalation will continue to expand during Early Access (New modes, Scenarios, Scenario Creator and Multiplayer in progress!).

More updates for Plague Inc.

More updates for Rebel Inc.

More top-secret things which we're not quite ready to share! :)
Be sure to follow us on Facebook/Twitter or sign up to our mailing list below to be the first to hear about any Ndemic news.
Stay safe and look after yourselves,
James and the Ndemic Creations team